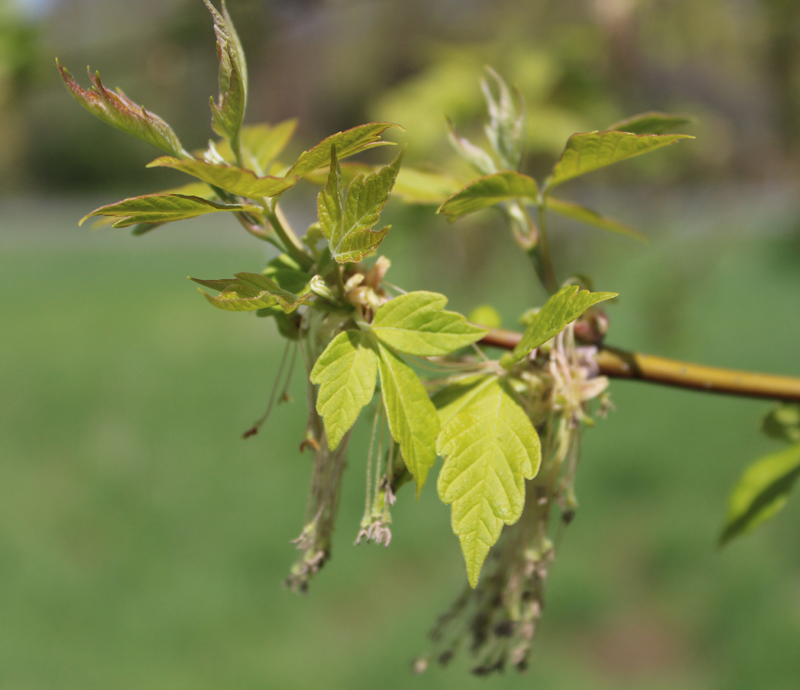 A highly adaptable small to medium-sized maple which produces dioecious green flowers in spring. Glossy compound leaves have 3-7 sections (in fact can bear a resemblance to poison ivy), and bark develops deep furrows as tree ages. Tolerant of salt, clay, and gravelly conditions. Hardy and fast-growing, an excellent tree for stabilizing banks along rivers and streams. Trunks and roots sucker freely, often creating a clustered growth habit. Seeds persist on branches throughout winter, providing important wildlife food. Host plant for Mourning Cloak butterflies (Nymphalis antiopa), Rosy Maple Moth (Dryocampa rubicunda), and Cecropia Moth (Hyalophora cecropia), also extremely valuable to cavity-nesting birds and may provide winter shelter for wildlife.

30-50 feet tall (15-30 feet wide)
Plant Hardiness Zones: Zone 3a-9b
Tree

Native Range: ME south to FL, west to TX and north to ND. Also CO, UT, WA, and OR. Native in Canada in BC, AB, SK, MB, ON, QC, NB, PE, NS, and NT.
Germination - Easy:: Cold stratify 8 weeks. For best results, remove outer hull before planting.
Boxelder 2-3 feet in a quart pot $18.00 (Temporarily Sold Out*)

*We normally carry this item but are temporarily sold out. We expect to have it available again as soon as our plants in production reach sufficient size/maturity or we harvest more seed. In some cases, plants may be recovering from caterpillar damage (Monarchs love our Milkweed), wind or hail damage, rampaging woodchucks, downed trees, or other natural issues. We are constantly updating our web site so please check back again.
Review or Finalize Your Order