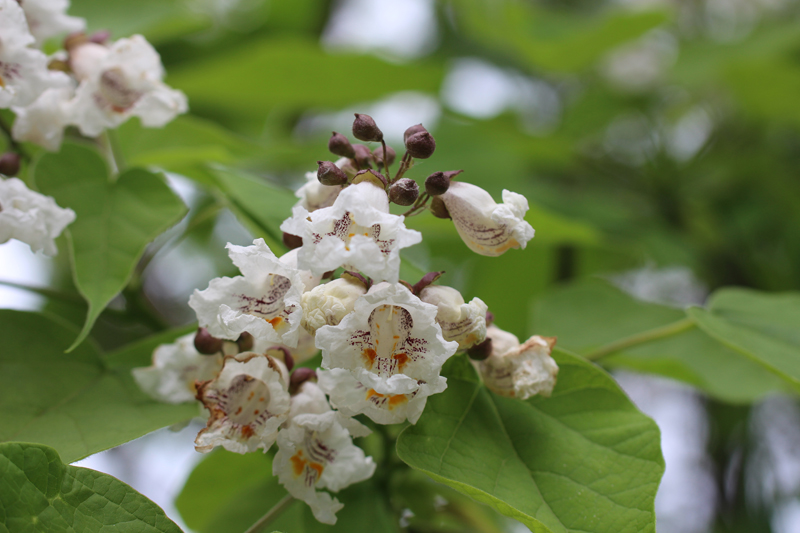 Huge pyramidal clusters (up to 10" tall) of big fragrant white flowers with yellow and purple accents from May to June are a sight to behold, huge heart-shaped leaves up to 1' long and 8" across, long slender seed pods (up to 15") persist into the winter before they split and release their seeds, good rain garden plant, drought & salt tolerant, tolerates seasonal flooding, host plant for the Catalpa Sphinx (Ceratomia catalpae) & Tersa Sphinx (Xylophanes tersa) moths, pollinated by bumble bees & other native bees. Due to the astonishing seed pods, this plant is sometimes also called the Cigar Tree. It was planted far and wide, well beyond its original range, for its rot resistant wood.

40-70' tall (20-40' wide)
Plant Hardiness Zones: 4a-8b
Tree
Deer Resistant
Native Range: originally thought to be only along the Mississippi river from IL/IN to AR/TN, and possibly WV. Now spread from cultivation and distributed from ME to GA, west to ND and NM
Northern Catalpa - 1-2 foot tall in a gallon pot $18.75 (Temporarily Sold Out*)
Northern Catalpa - 2-3 foot tall in a gallon pot $22.75 (Temporarily Sold Out*)

*We normally carry this item but are temporarily sold out. We expect to have it available again as soon as our plants in production reach sufficient size/maturity or we harvest more seed. In some cases, plants may be recovering from caterpillar damage (Monarchs love our Milkweed), wind or hail damage, rampaging woodchucks, downed trees, or other natural issues. We are constantly updating our web site so please check back again.
Review or Finalize Your Order