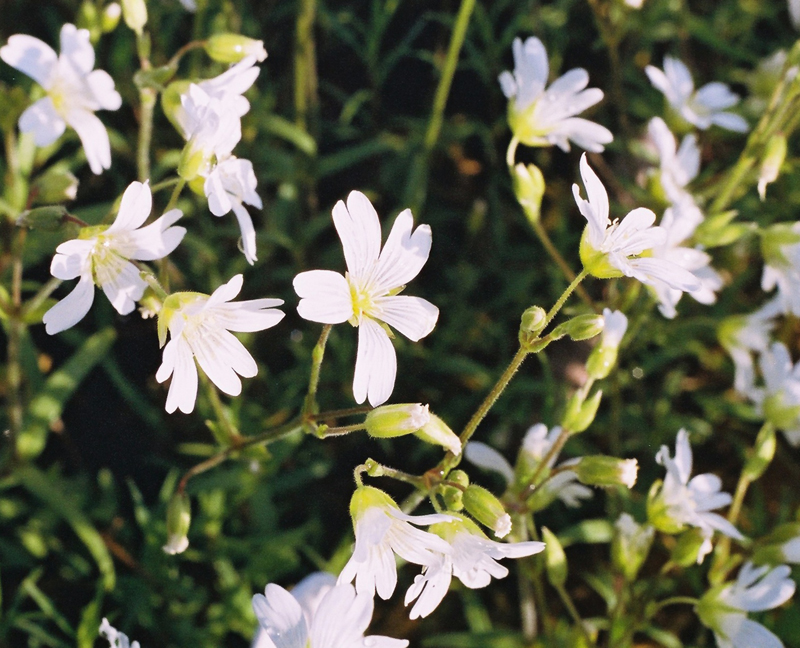 Mats of bright fragrant white flowers almost 3/4" wide from April through early summer, creeping stems with narrow inch-long leaves form mats or tufts, a cool season plant that does most of its growing in spring & fall, great non-invasive groundcover, drought tolerant, likes rocky soil & outcrops, host plant for the Chickweed Geometer (Haematopis grataria), and others, nectar plant for native bees. Along the upper Delaware River you can see it blooming in the spring on the cliffs along with Wild Columbine (Aquilegia canadensis). This plant is not to be confused with common chickweed (Stellaria media) or mouse-ear chickweed (Cerastium fontanum) which are both non-native plants.

6-10" tall
Plant Hardiness Zones: 3b-10b
Perennial

Native Range
: Entire US excluding VA, NC, SC, FL, AL, LA, TX, OK, KS. Also native throughout Canada. Rare in MO and NV
Germination - Easy: cold/warm fluctuating temperatures (approx. 50o to 75o F)
Starry Cerastium
Seed Packet
$4.00
(Temporarily Sold Out*)
*We normally carry this item but are temporarily sold out. We expect to have it available again as soon as our plants in production reach sufficient size/maturity or we harvest more seed. In some cases, plants may be recovering from caterpillar damage (Monarchs love our Milkweed), wind or hail damage, rampaging woodchucks, downed trees, or other natural issues. We are constantly updating our web site so please check back again.
Review or Finalize Your Order