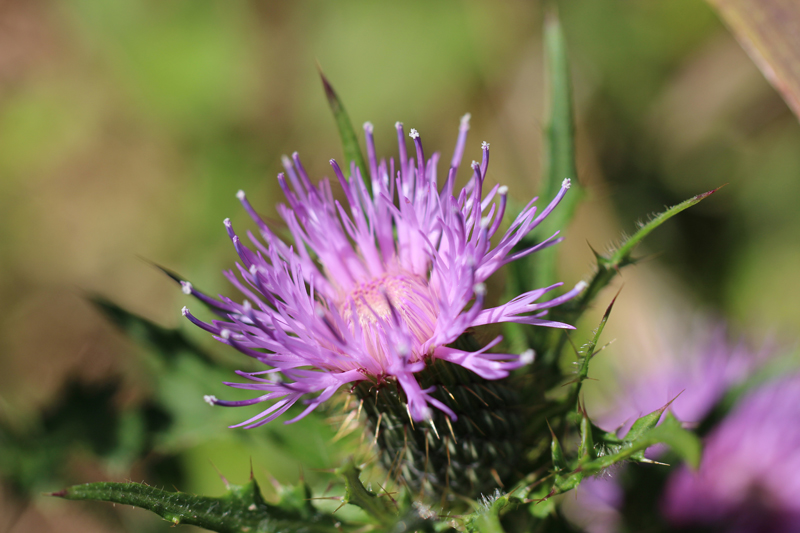 Bright pink/purple globular flowers (that remind everyone of Scotland) bloom in August & September, exceptionally spiny deeply cut leaves up to 9 inch long, forms a large flat rosette of leaves the first year, seeds dispersed on feathery parachutes, butterfly host plant Painted Lady (Vanessa cardui), attracts butterflies & native bees, birds love the seeds, Goldfinches famously use the seed "fluff" to line their nests, attracts hummingbirds.

2-8 foot tall
Plant Hardiness Zones: 5a-9a
Biennial
Deer Resistant
Native Range: s. QC & ON, west to ND, south to the GA mountains and e. TX
Germination - Easy: Cold Stratify 4 weeks
Pasture Thistle
Seed Packet
$4.00
(Temporarily Sold Out*)
*We normally carry this item but are temporarily sold out. We expect to have it available again as soon as our plants in production reach sufficient size/maturity or we harvest more seed. In some cases, plants may be recovering from caterpillar damage (Monarchs love our Milkweed), wind or hail damage, rampaging woodchucks, downed trees, or other natural issues. We are constantly updating our web site so please check back again.
Review or Finalize Your Order