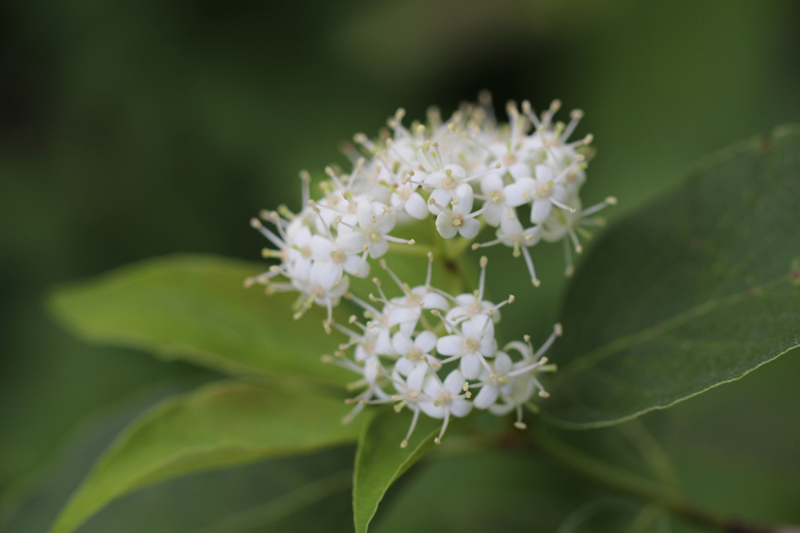 Multi-stemmed shrub producing rounded clusters of creamy white flowers March through June, bunches of 1/4 inch white berries (drupes, really) develop on bright red stems, narrow classic dogwood leaves turn a striking purple/red in fall, reddish young twigs with gray bark on older branches, birds (including Bluebirds, N. Flickers, and Downy Woodpeckers) eagerly gobble up the fruit in the fall, host plant for Spring Azure butterfly (Celastrina ladon), fairly drought resistant (for a Dogwood).

3-12 foot tall (3-12 foot wide)
Plant Hardiness Zones: 3a-8b
Woody Shrub
Native Range: s. QC, ON & MB south through the e. Dakotas to nw. SC and n. AR
Red-panicled Dogwood 6-12 inch in a Quart pot $17.75 (Temporarily Sold Out*)

*We normally carry this item but are temporarily sold out. We expect to have it available again as soon as our plants in production reach sufficient size/maturity or we harvest more seed. In some cases, plants may be recovering from caterpillar damage (Monarchs love our Milkweed), wind or hail damage, rampaging woodchucks, downed trees, or other natural issues. We are constantly updating our web site so please check back again.
Review or Finalize Your Order