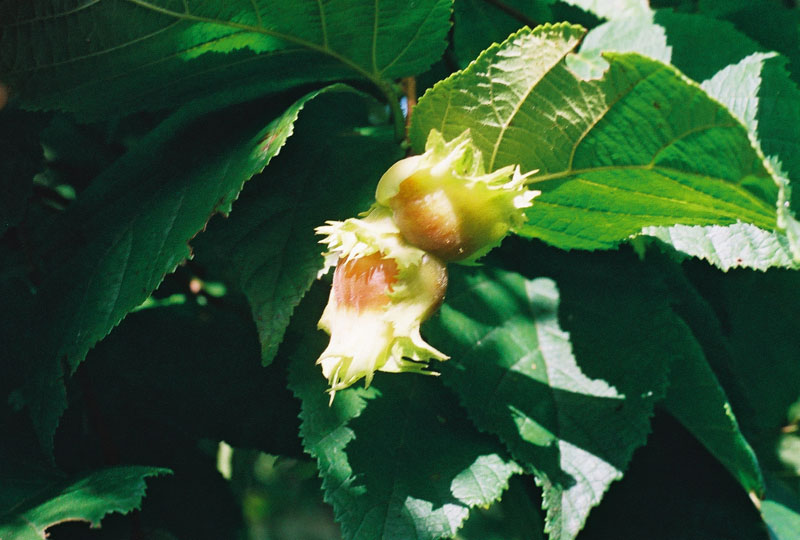 Yellow male catkins descend from this beautiful shrub in March, female flowers are tiny red stars along the ends of the branches, rounded leaves are slighted pleated and turn a fantastic copper color in fall, terrifically tasty nuts encased in frilled leafy bracts ripen in early August (take your cue from the S quirrels-as soon as you see one run off with a nut, it is time to harvest!), excellent wildlife food (for turkey, foxes, woodpeckers, quail, etc.), clay tolerant, can be trimmed to grow as a small tree.

6-15 feet tall (4-8 feet wide)
Plant Hardiness Zones: 4a-9b
Woody Shrub

Native Range: MB to QC south to n. GA, n. LA, & e. OK. Rare in QC & LA
American Filbert < 6 inch tall in a quart pot $15.00 (Temporarily Sold Out*)

*We normally carry this item but are temporarily sold out. We expect to have it available again as soon as our plants in production reach sufficient size/maturity or we harvest more seed. In some cases, plants may be recovering from caterpillar damage (Monarchs love our Milkweed), wind or hail damage, rampaging woodchucks, downed trees, or other natural issues. We are constantly updating our web site so please check back again.