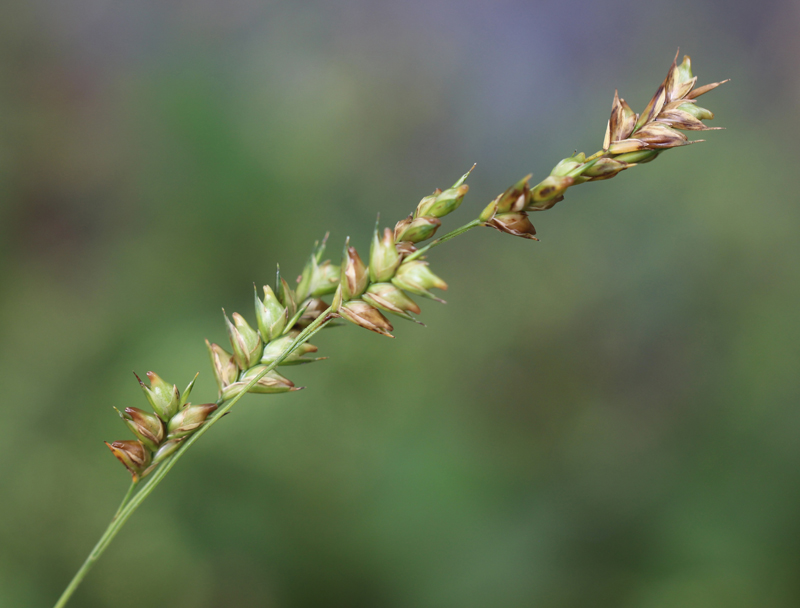 Widely-spaced green flowers on arching spikes from June to July give rise to golden brown 'beaked' seed heads. Graceful, shiny dark green foliage (leaves up to 0.75" across) turn a beautiful gold-yellow in fall. Drought tolerant, great for erosion control, spreads by creeping rhizomes to form colonies, black walnut and pollution tolerant. Despite the unfortunate genus name (which, from the Latin, means 'twice' 'male' for the paired stamens) this is one of the most beautiful clump-forming woodland grasses. Quite happy in shade, this species is at home in rich woodland soil but also adaptable to average conditions. Really shines in winter and late autumn, with excellent golden color persisting all winter long, making it great for borders and shady locations.

2-3' tall
Plant Hardiness Zones: 4b-8a
Perennial
Deer Resistant
Native Range: NY south to VA and TX, north to MN. Rare in NY, VA, KY, TN, TX, SD, and MN. Native in Canada in ON
Germination - Easy: Cold stratify 8 weeks.
Review or Finalize Your Order