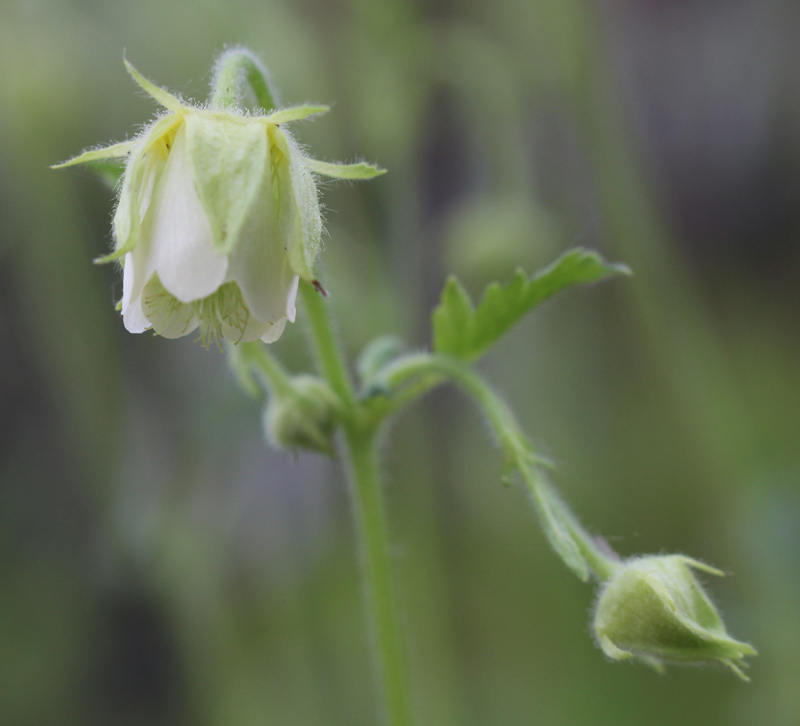 A white-flowered form of the wetland-loving Purple Avens. Flowers are showy and bell-shaped, emerging on slender stalks above the plant from May-August. The flowers turn upright and form spiky, ornamental seed balls when pollinated. Leaves and stems are slightly fuzzy and form a dense, bright-green bunch along the ground, spreading by rhizomes to create vigorous patches in wet areas (they're an excellent, attractive groundcover for borders). Tolerant of soggy soil and occasional flooding, this species tends to prefer slightly acid conditions. Flowers are quite attractive to pollinators, especially bumblebees. Can easily be propagated by division, and deadheading the flowers will encourage additional blooms. Parts of this plant have long been used for a number of purposes: boiled, the rhizomes will supposedly flavor water slightly like chocolate, giving it the common name "chocolate root," but the root has also been dried and used to repel moths, as well as used for creating a variety of traditional medicines.

9-18 inch tall
Plant Hardiness Zones: 3a-7a
Perennial
Deer Resistant
Native Range: the eastern population ranges from Labrador across QC & ON to s MB, south to n NJ, WV, & n. IL & MN, the western population ranges from around the Rocky Mountains in BC & AB, south through WA, ID, & MT to n NM.
Purple Avens (white form) in a 3.5 inch pot $10.75 (Temporarily Sold Out*)

*We normally carry this item but are temporarily sold out. We expect to have it available again as soon as our plants in production reach sufficient size/maturity or we harvest more seed. In some cases, plants may be recovering from caterpillar damage (Monarchs love our Milkweed), wind or hail damage, rampaging woodchucks, downed trees, or other natural issues. We are constantly updating our web site so please check back again.
Review or Finalize Your Order