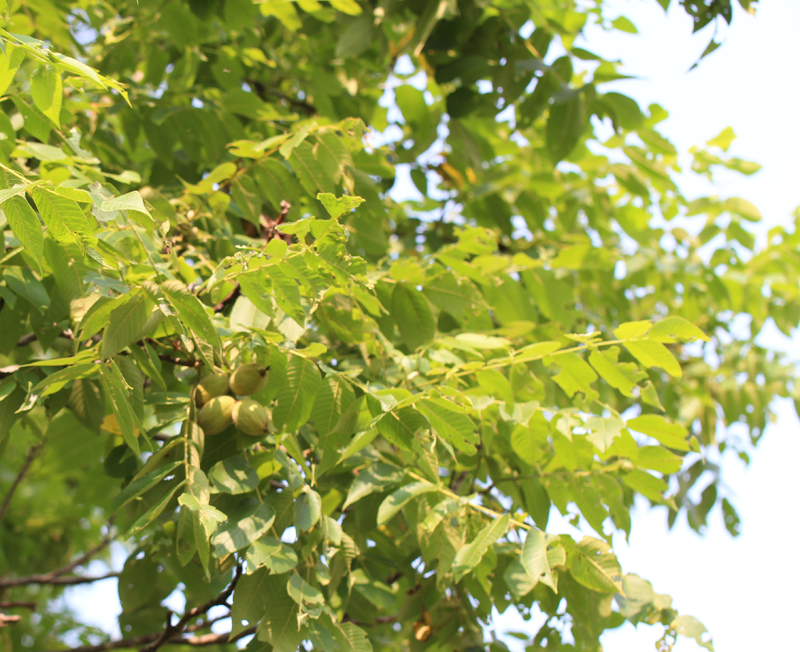 A lovely nut-bearing tree of extremely high ecological value, Butternut looks similar to its cousin Black Walnut (Juglans nigra), but smaller, with smoother bark and more oval-shaped nuts. The primary draw of this tree is not its flowers (which are greenish-yellow and bloom from May-June), but its nuts, which are large, sweet, covered with small, sticky hairs, and a sought-after food source for both people and wildlife. Leaves are compound and very pretty, turning a lovely yellow in early autumn before beginning to fall. Tolerates moist conditions, salt, drought, and bottomlands, and is often found growing in riparian areas, although it can also be occasionally found growing in somewhat dry limestone soils. Not especially tolerant of deep shade or shallow, wet soil. As the common names might imply (this species has also been historically referred to as Oilnut), the nuts have historically been used as a source of oil, which is relatively easy to extract; although they are prized as a food source in their own right, the high oil content means they tend to go rancid relatively quickly, and don't store very well long-term. Must be transplanted when still relatively young due to its significant and fast-developing taproot, which is one of the features that makes this species so tolerant of droughts. Unfortunately, this species is susceptible to butternut canker disease, which (along with overharvesting for lumber, for which the wood is also highly prized) has made it quite rare throughout much of its range where it was once a relatively common forest tree.

40-70 feet tall
Plant Hardiness Zones: 2b-7b
Tree

Native Range: ME south to GA, west to MS, AR, and north to MN. Native to Canada in ON, QC, NB, PE, NS. Considered rare in VT, NY, NJ, DE, MD, VA, WV, NC, SC, KY, IN, TN, GA, AL, MS, AR, WI, and MN.