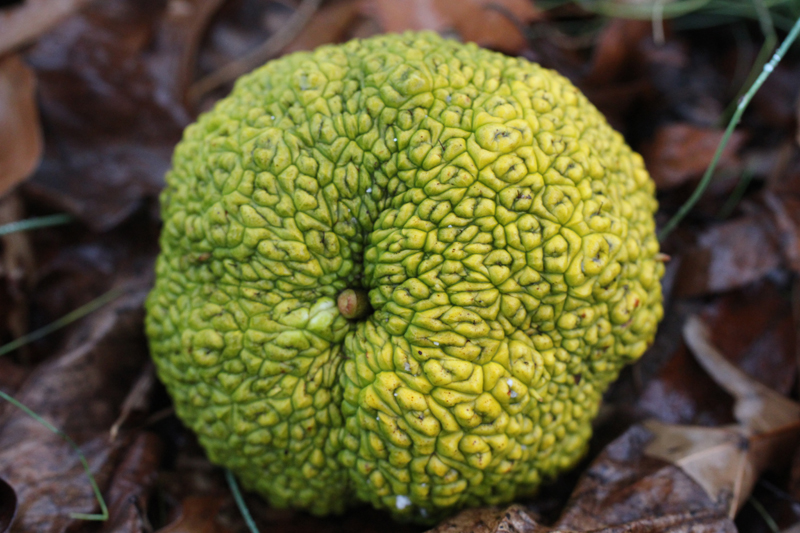 Crazy inconspicuous tribble-like green female and trailing male flowers May through June, glossy broad green leaves turn deep yellow in fall, female plants produce giant 5 inch round green brain-like fruits (we used to call them Monkey Brains when I was a kid), heavily furrowed bark, tolerates very poor soil, excellent bow wood (prized by Native Americans for this use), heart wood beautiful for woodworking though incredibly hard, rot resistant, individual trees develop a squat and attractive aspect with age, used for living livestock fences and to control soil erosion during the Dust Bowl, very long sharp thorns, excellent bird nest habitat - preferred by Loggerhead Shrikes, Grosbeaks and Crossbills eat the seeds, believed to have been an important food source for NA Woolly Mammoths and Giant Sloths during the Pleistocene epoch!

40-60 foot tall
Plant Hardiness Zones: Zone 4a-9b
Woody Shrub/Tree
Native Range: post glacial range AR to OK & TX, now found MA & NY to WA & south to s. CA and c. FL
Germination - Easy: Soak 2 days and plant OR Cold stratify 4 weeks. Protect from rodents
Osage Orange < 6 inch tall in a quart pot $12.75 (Temporarily Sold Out*)
Osage Orange Seed Packet $4.00 (Temporarily Sold Out*)

*We normally carry this item but are temporarily sold out. We expect to have it available again as soon as our plants in production reach sufficient size/maturity or we harvest more seed. In some cases, plants may be recovering from caterpillar damage (Monarchs love our Milkweed), wind or hail damage, rampaging woodchucks, downed trees, or other natural issues. We are constantly updating our web site so please check back again.
Review or Finalize Your Order