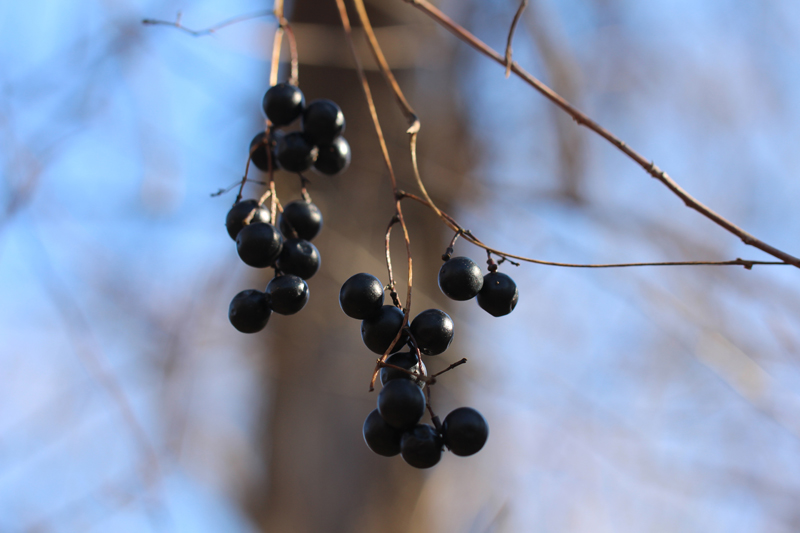 A woody climbing vine with clusters of small white flowers from June through July producing grape-like (but poisonous, mind you!) blue-black fruits on female vines in late summer that persist through the winter, rounded leaves are very large (up to 10 inch) & attractive with up to 7 lobes, green twining vines, plants form colonies with multiple stems, host plant for Variegated Fritillary Butterfly caterpillars (Euptoieta claudia). Unsexed. (Since they come in both male & female plants it's best to get a couple to ensure you get a female for fruit set).

climbs 6 to 15 foot high
Plant Hardiness Zones: 4a-8b
Woody Vine

Native Range: w. QC & w. New England, to e. MB, south through e. ND, OK to a few counties in c. TX, & over to n. FL
Germination - Moderately Difficult: Light physical scarification, soak overnight, then cold stratify 8 weeks.
Canada Moonseed
Seed Packet
$4.00
(Temporarily Sold Out*)
*We normally carry this item but are temporarily sold out. We expect to have it available again as soon as our plants in production reach sufficient size/maturity or we harvest more seed. In some cases, plants may be recovering from caterpillar damage (Monarchs love our Milkweed), wind or hail damage, rampaging woodchucks, downed trees, or other natural issues. We are constantly updating our web site so please check back again.
Review or Finalize Your Order