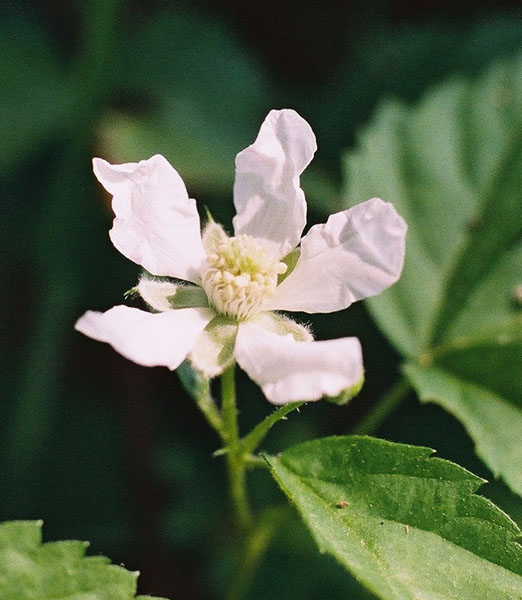 A prostrate prickly briar that produces 1 inch white flowers from April through June followed by delicious large (1 inch) black fruits in July, leaves compound with 3 to 5 toothed leaflets up to 3 inch long, lots of prickly thorns, spreads by seed & rooting stems, the tap root that develops makes this plant very drought tolerant, will grow in very poor soils, good nectar source for native bees & butterflies, fruit are eagerly eaten by songbirds, game birds, small mammals (mice, chipmunks, etc.) and people.

trailing up to 15 foot but only 8-12 inch tall
Plant Hardiness Zones: 3b-8a
Woody Vine
Deer Resistant
Native Range: MN, s. ON, s. QC & ME south to se. NE, TX & FL. Rare in IN
Germination - Difficult: 3 months Warm then 3 months Cold Stratification. Needs warm soil to germinate. May take multiple years
Northern Dewberry
Seed Packet
$4.00
(Temporarily Sold Out*)
*We normally carry this item but are temporarily sold out. We expect to have it available again as soon as our plants in production reach sufficient size/maturity or we harvest more seed. In some cases, plants may be recovering from caterpillar damage (Monarchs love our Milkweed), wind or hail damage, rampaging woodchucks, downed trees, or other natural issues. We are constantly updating our web site so please check back again.
Review or Finalize Your Order