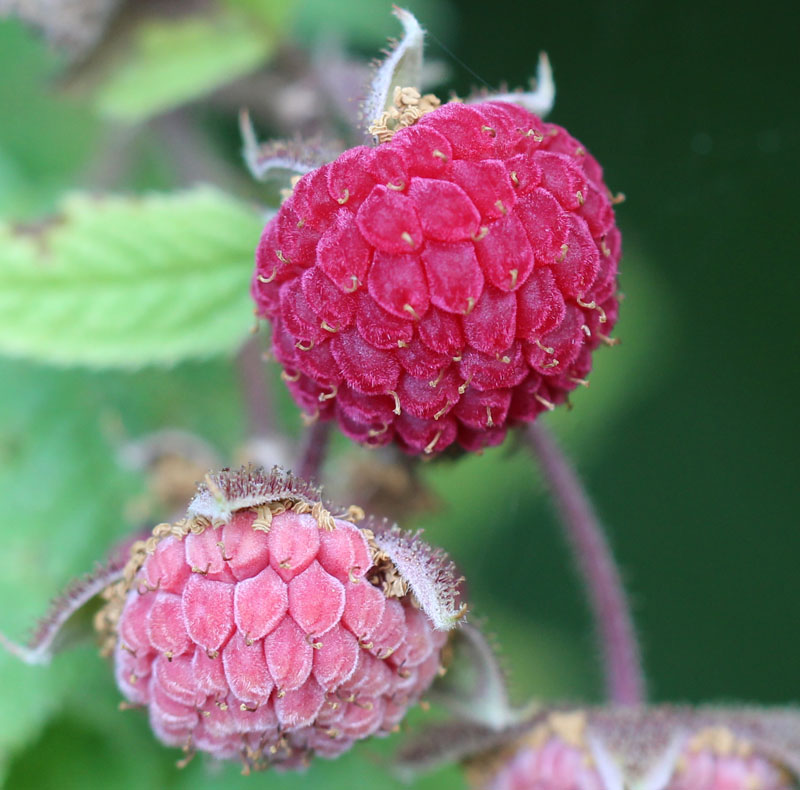 Loose clusters of white flowers from May to August produce delicious and juicy bright red fruit in late summer, pinnately compound mostly trifoliate leaves turn red/purple in fall, multi-stemmed with purple/red arching canes, most of the plant has fine prickles and glandular hairs, loves acid soil, very high wildlife value, attracts pollinators (bees, butterflies, and others), great food for people, birds and mammals.

3-6 foot Tall
Plant Hardiness Zones: 3a-8b
Woody Shrub
Native Range: NL through the bottom 1/3 of QC and s half of ON, with some populations as far west as the w. AL and the BC Rocky Mountains, south to NC, OK, NM, AZ & CA
Germination - Difficult: Physically scarify & soak overnight then cold stratify 8 weeks. May take multiple years.
American Red Raspberry in a gallon pot $23.75 (Temporarily Sold Out*)

*We normally carry this item but are temporarily sold out. We expect to have it available again as soon as our plants in production reach sufficient size/maturity or we harvest more seed. In some cases, plants may be recovering from caterpillar damage (Monarchs love our Milkweed), wind or hail damage, rampaging woodchucks, downed trees, or other natural issues. We are constantly updating our web site so please check back again.
Review or Finalize Your Order