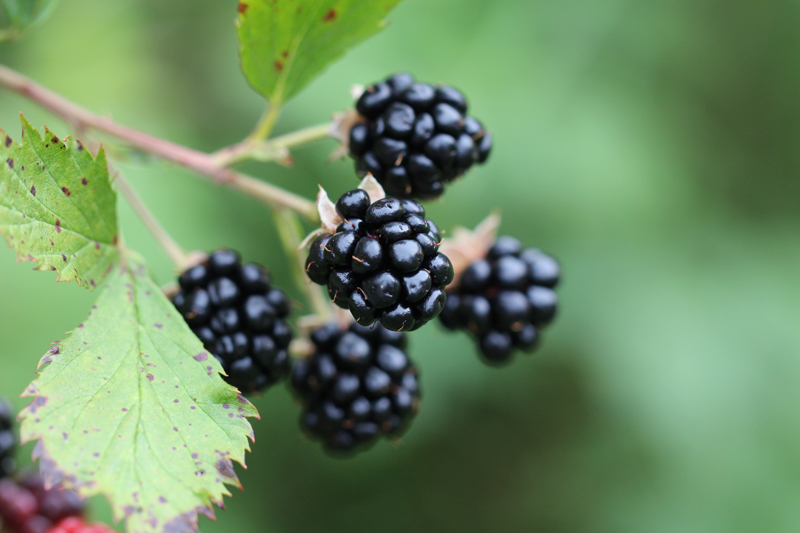 Arching thorny canes bear white flowers from May to June followed by plump and tasty blackberries, major nectar source for native and honey bees, large leaves are palmately compound on new canes and trifoliate on 2nd year canes (which produce the flowers and fruit), spreads by tip-rooting and seed. Although these plants are drought tolerant they need sufficient moisture during fruit ripening or their fruit will simply dry up.

2-5 foot tall
Plant Hardiness Zones: 2a-7b
Woody shrub
Deer Resistant
Native Range: Labrador to MN, south to AL
Germination - Difficult: Physically scarify and soak overnight then cold stratify 8 weeks. May take multiple years
Pennsylvania Blackberry in a quart pot $20.50 (Temporarily Sold Out*)
Pennsylvania Blackberry in a gallon pot $25.00 (Temporarily Sold Out*)

*We normally carry this item but are temporarily sold out. We expect to have it available again as soon as our plants in production reach sufficient size/maturity or we harvest more seed. In some cases, plants may be recovering from caterpillar damage (Monarchs love our Milkweed), wind or hail damage, rampaging woodchucks, downed trees, or other natural issues. We are constantly updating our web site so please check back again.
Review or Finalize Your Order