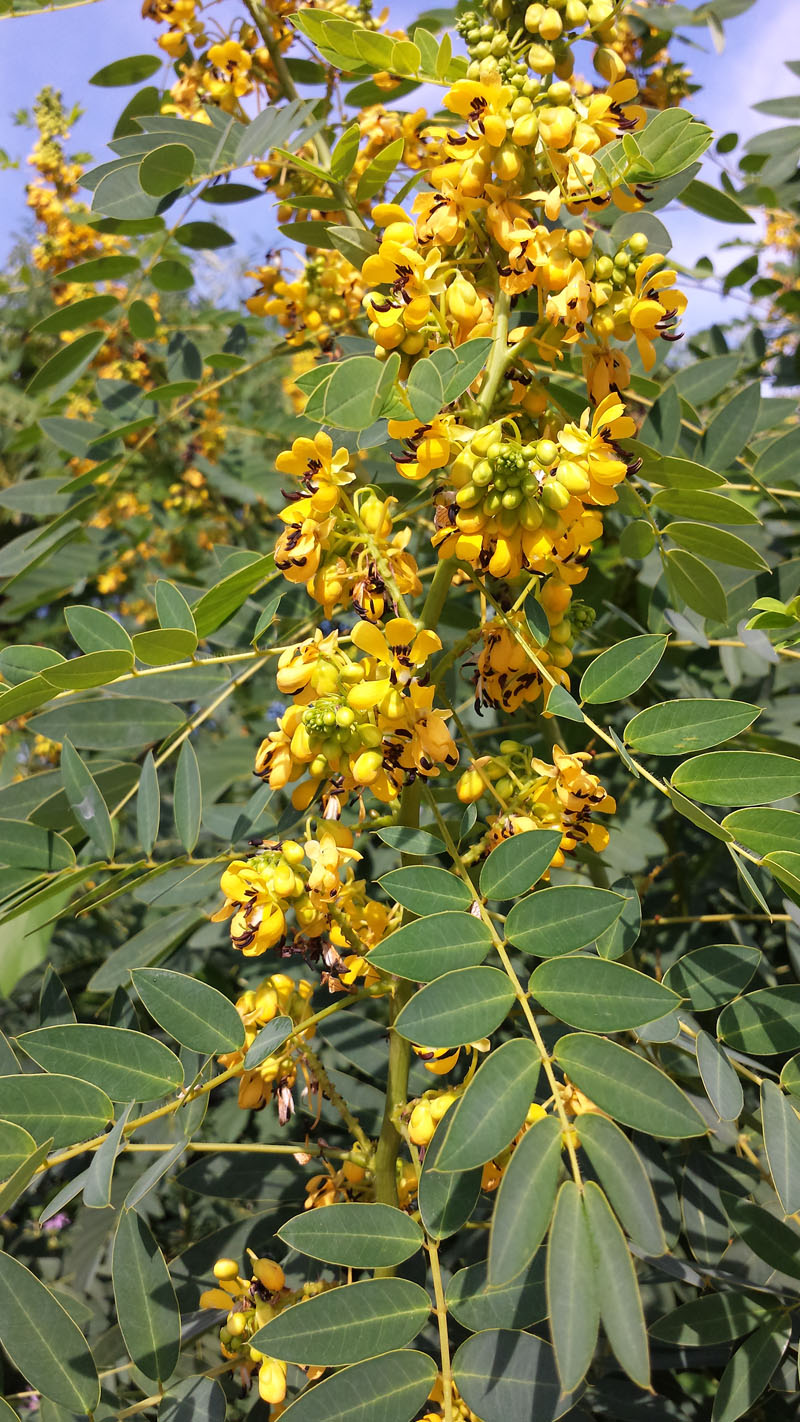 A tall, stately plant with flashy yellow flowers near the stem in July-August which give way to persistent peapod-looking fruits, Maryland Senna adds interest to a landscape all season. The leaves are large, dark-green and striking, their compound structure giving the whole plant a rather tropical look, and they're tolerant of clay and drought. Their flowers are of particular value to many species of bees, and they are also the host plant to a variety of Sulphur butterflies, including the Sleepy Orange ( Abaeis nicippe), which is exactly as adorable as it sounds (and surprisingly friendly!)

2-6 foot tall
Plant Hardiness Zones: 5a-10b
Perennial
Deer Resistant
Native Range: NY down to FL, westward to TX and up the western edge of its range to NE. Northern edge of range includes NE, IA, WI, IL, IN, OH, PA, and NY. Rare in NE, WI, PA, WV, NY, NJ, and MD.
Germination - Easy:: Hot soak overnight. Cover lightly. Add Rhizobium inoculant or pinch of garden soil.
Maryland Senna in a 3.5 inch pot $10.75 (Temporarily Sold Out*)
Maryland Senna Seed Packet $4.00 (Temporarily Sold Out*)

*We normally carry this item but are temporarily sold out. We expect to have it available again as soon as our plants in production reach sufficient size/maturity or we harvest more seed. In some cases, plants may be recovering from caterpillar damage (Monarchs love our Milkweed), wind or hail damage, rampaging woodchucks, downed trees, or other natural issues. We are constantly updating our web site so please check back again.
Review or Finalize Your Order