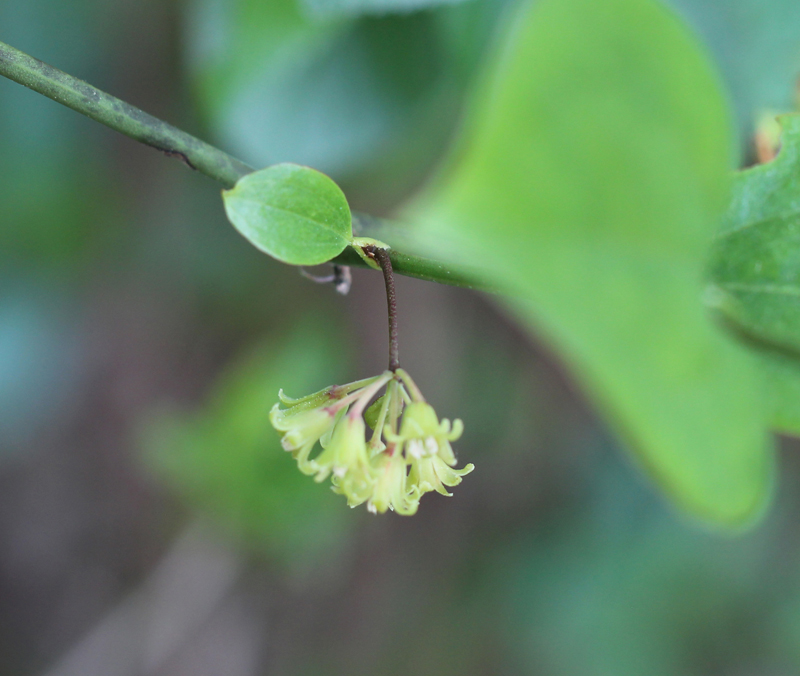 Groups of up to 20 small green/white flowers from June to July produce dark blue black berries with a waxy bloom that persist through winter and are an important food source for overwintering songbirds, dioecious (male and female flowers produced on separate plants), shiny 3 to 5 veined leaves are 2-6 inch long and often almost round, red fall color, climbs by tendrils, almost all stems are armed with large sturdy thorns, left to its own devices and allowed to spread - it will form a thorny impenetrable thicket that is good wildlife cover, can be trained along a fence or trellis (but root suckers must be managed), tolerant of a wide range of soils (clay, sand, gravel/rocky), flowers are a nectar and pollen source for native bees, host plant to several moths including the Curve-lined Owlet (Phyprosopus callitrichoides).

up to 20 foot long
Plant Hardiness Zones: 5a-9a
Perennial
Native Range: NS west across s. ON to MN & SC, south to n Fl and e TX
Germination - Moderately Difficult: Light physical scarification before planting. Germination may take 2 months or more.
Roundleaf Greenbrier in a 3.5 inch pot $10.25 (Temporarily Sold Out*)
Roundleaf Greenbrier in a 4 inch pot $11.25 (Temporarily Sold Out*)

*We normally carry this item but are temporarily sold out. We expect to have it available again as soon as our plants in production reach sufficient size/maturity or we harvest more seed. In some cases, plants may be recovering from caterpillar damage (Monarchs love our Milkweed), wind or hail damage, rampaging woodchucks, downed trees, or other natural issues. We are constantly updating our web site so please check back again.
Review or Finalize Your Order