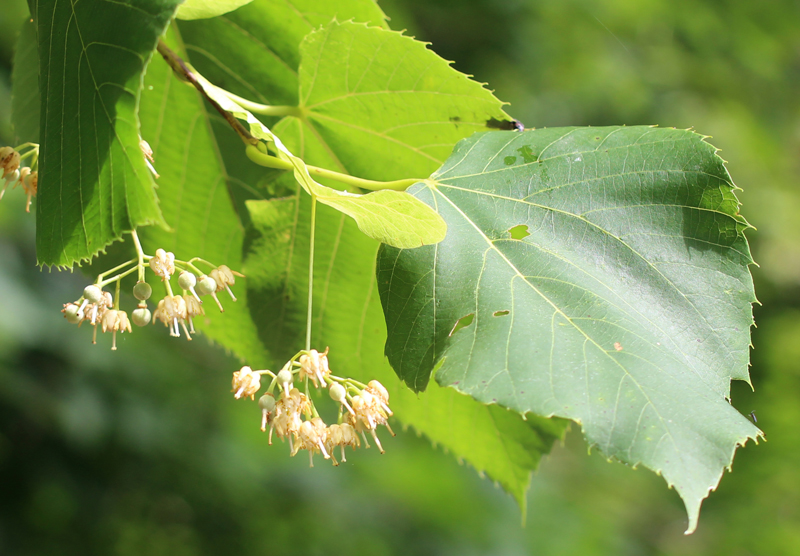 Drooping clusters of fragrant 1/2 inch white flowersare a boon for bees which eagerly seek them out as an excellent nectar source in early summer (usually June around here) giving it the nickname 'the Bee Tree', seeds (actually nut-like drupes) dangle from 5 inch long leaf-like floral bracts that persist into early winter, 4-8 inch long broadly heart-shaped dark green leaves, yellow fall color, host plant for a variety of insects and moths including the Yellow-Banded Underwing (Catocala cerogama), sand & drought tolerant, saplings can tolerate quite a lot of shade (it's a late successional tree), nutlets/seeds are eaten by wildlife, good nesting tree. .

50-100 foot tall (30-50 foot wide)
Plant Hardiness Zones: 3b-9b
Tree
Native Range: Labrador through s ON to ND, south to c TX and c FL
Germination - Moderately Difficult: Cold stratify 3 months
American Basswood up to 6 inch or less in a quart pot $14.25 (Temporarily Sold Out*)
American Basswood 6-12 inch tall in a gallon pot $19.25 (Temporarily Sold Out*)

*We normally carry this item but are temporarily sold out. We expect to have it available again as soon as our plants in production reach sufficient size/maturity or we harvest more seed. In some cases, plants may be recovering from caterpillar damage (Monarchs love our Milkweed), wind or hail damage, rampaging woodchucks, downed trees, or other natural issues. We are constantly updating our web site so please check back again.
Review or Finalize Your Order