June 6, 2015

Monarch Butterflies are showing up in our gardens and fields again (thankfully!) and so I thought I would write just a bit about gardening for Monarchs. Monarchs, as it seems almost everyone knows by now, require Milkweed for their caterpillars.
As a matter of fact, Monarch caterpillars can only feed on Milkweeds - nothing else! The adult Butterflies, however, need nectar all summer long!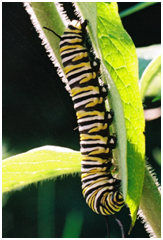 Monarch Butterfly (Danaus plexippus) caterpillar
When planting for Monarchs, mix Milkweed with lots of flowering nectar plants (as well as grasses) that will bloom from early in the summer (when Monarchs first arrive) through the fall. This will have several advantages!
It will

provide nectar for the Monarchs (and many butterflies and pollinators) when the Milkweed are not flowering! Each species of Milkweed only flowers for about a month. The adult Monarchs need nectar from the time they arrive until they leave.


Create a sustainable ecosystem. A monoculture of Milkweed is no more sustainable than any other monoculture


Support not only the struggling Monarch, but many species of Butterflies, Beetles, Moths, Birds, Snakes, Turtles, and Mammals...etc.


Create a thing of beauty for everyone to admire end enjoy
What kind of Milkweed should you plant?
Plant Milkweeds native to your area and adapted to your soil and sun conditions. Monarchs can use ALL of them. There are about 75 species of Milkweed found in North America - so there are a lot to choose from. You can find out what species are native to your area at the Biota of North America Program. Around here, we have about 12 species that are native, although several of those are quite rare.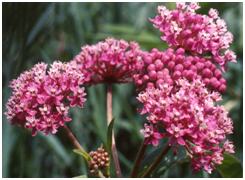 Purple Milkweed (Asclepias purpurascens)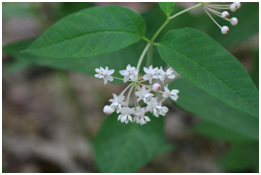 Fourleaf Milkweed (AAsclepias quadrifolia)