May 26, 2017

Tags
Pollinators
Starting Seeds
Milkweed
Butterflies and Moths
Its Spring at Toadshade Once Again
This spring as every spring, things are hopping here at Toadshade! We're busy filling orders, transplanting seedlings, preparing for events, responding to your emails, collecting seeds, keeping an eye out for wildlife visitors, and enjoying the green of spring! It's quite nice to have a rainy day or two to catch our breath a bit and update you on what's been happening....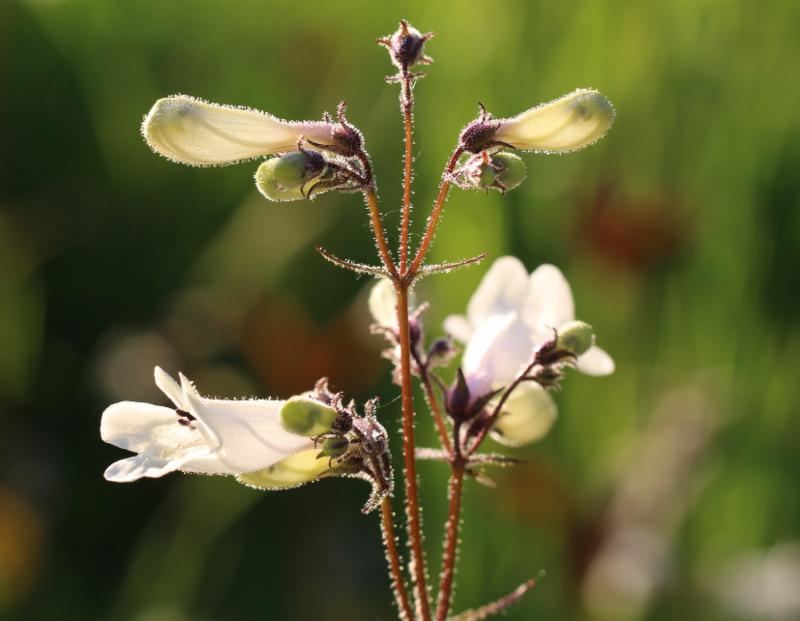 Tall White Beardtongue (Pestemon digitalis), one of the many plants growing in Toadshade's meadow.
Meadow Success
Last fall as the weather cooled, we turned our attention to the meadow at Toadshade, planting and seeding several species to increase our biodiversity in places: Common Milkweed (Asclepias syriaca), Lyre-leafed Sage (Salvia lyrata), Purple Milkweed (Asclepias purpurascens), Hoary Mountain Mint (Pycnanthemum incanum), Wild Bergamot (Monarda fistulosa), Butterfly Milkweed (Asclepias tuberosa), Blue False Indigo (Baptisia australis), Broomsedge Bluestem (Andropogon virginicus), and a variety of other plants! Nearly all of these were already present in the meadow, but we overseeded what was already there and added plantings to increase the populations, and everything is sprouting with enthusiasm! We've been greatly enjoying watching the newcomers emerge as the spring has gone on, but not just in the meadow itself-- the wood's edge also saw some new plantings: we planted more Paw Paws (Asimina triloba) and Chokeberries (Aronia), among other natives... needless to say, we were busy last fall, but it's been paying off this spring!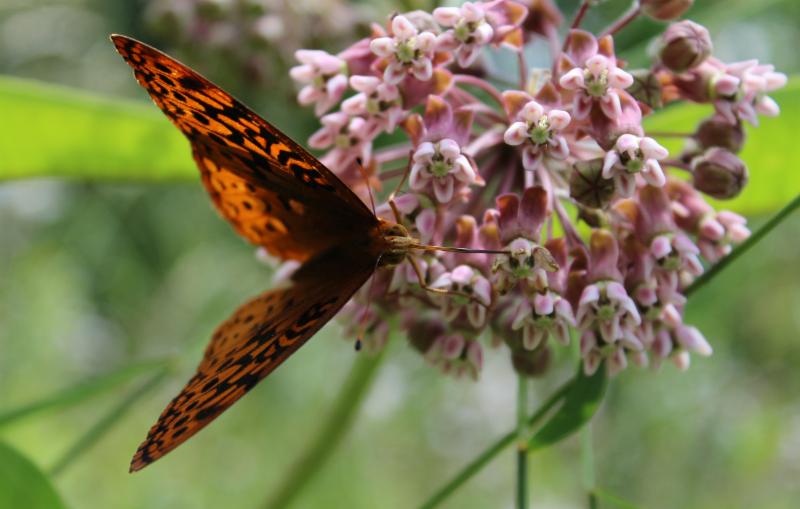 We look forward to seeing Great Spangled Fritillaries (Speyeria cybele) nectaring on our Common Milkweeds (Asclepias syriaca) again this year in our meadow!
What else is new?
Toadshade has doubled our greenhouse space! We only use our greenhouse space to start and protect our youngest seedlings, which means our plants are in synchrony with the seasons and always fully hardened off to the weather when they're planted out! With our new greenhouse space we can seed and transplant our seedlings more efficiently, so if we're sold out of something... keep checking back! It's pretty likely we're working hard to grow more of that species so that we can put it back on sale. We're also working on expanding our pond (imagine the movie "Holes," but more fun) so that we can keep more aquatic species growing wild here at Toadshade. Our local frog species like Spring Peepers (Pseudacris crucifer), and Grey Treefrogs (Hyla versicolor) are very excited about this.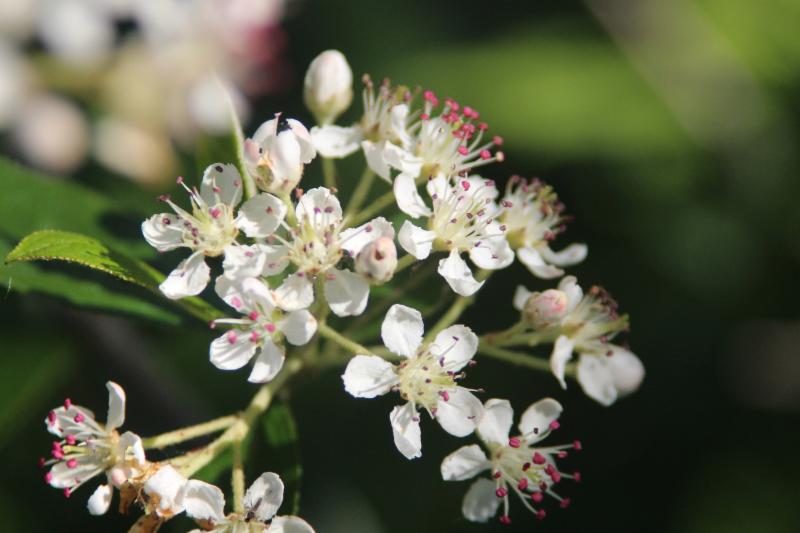 Red Chokeberry (Aronia arbutifolia) and Black Chokeberry (Aronia melanocarpa) both bloom beautifully in the spring, and have very showy berries in the fall.
Biodiversity Happenings at Toadshade
One of the advantages of having a large variety of native plant species is that you get a wide variety of interesting wildlife visitors as well. This spring we have Baltimore Orioles (Icterus galbula), Tree Swallows (Tachycineta bicolor), Eastern Bluebirds (Sialia sialis), Black-Capped Chickadees (Poecile atricapillus), House Wrens (Troglodytes aedon), Gray Catbirds (Dumetella carolinensis), Chipping Sparrows (Spizella passerina), Tufted Titmouse (Baeolophus bicolor), and American Robins (Turdus migratorius), all nesting in the area around where we grow our plants.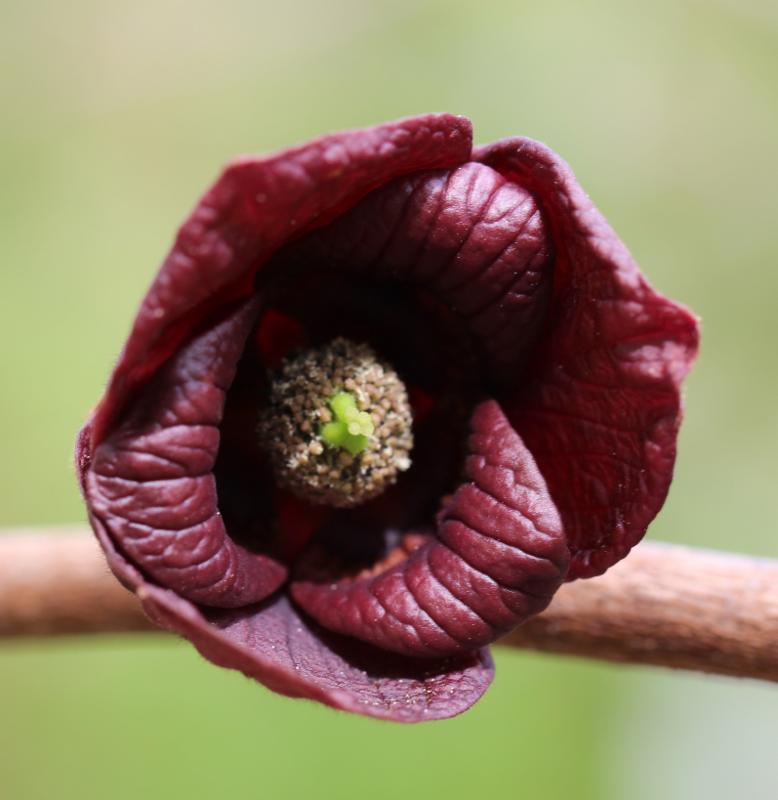 The Paw Paws (Asimina triloba) are in bloom right now! These flowers will turn into delicious Paw Paw fruit later in the year, which are also enjoyed by many species of wildlife.
Yes, it's a bit crowded.
The Catbirds and Wrens in particular like to follow us when we move plants around, in hopes of scoring insect snacks in our wake, and if past years are anything to go by, in a few weeks we should be seeing their fledgling babies clumsily crash-landing right where we're working, and scolding us half-heartedly when they do... spring is always an interesting time at Toadshade! We frequently also encounter a variety of species of amphibians and reptiles, which we are careful not to disturb. They have jobs to do as well! Native plants, as useful food sources for wildlife and hosts to specific insect species, drive this diverse food chain all year long, making for a richly biodiverse and interesting ecosystem: for example due to the fact that we grow a great number of violet (Viola) species here at Toadshade, hosts for Fritillary butterfly caterpillars, we often find our entire meadow aflutter with bright orange Great Spangled Fritillaries (Speyeria cybele) come midsummer. We're excited to see what our new plantings will bring!!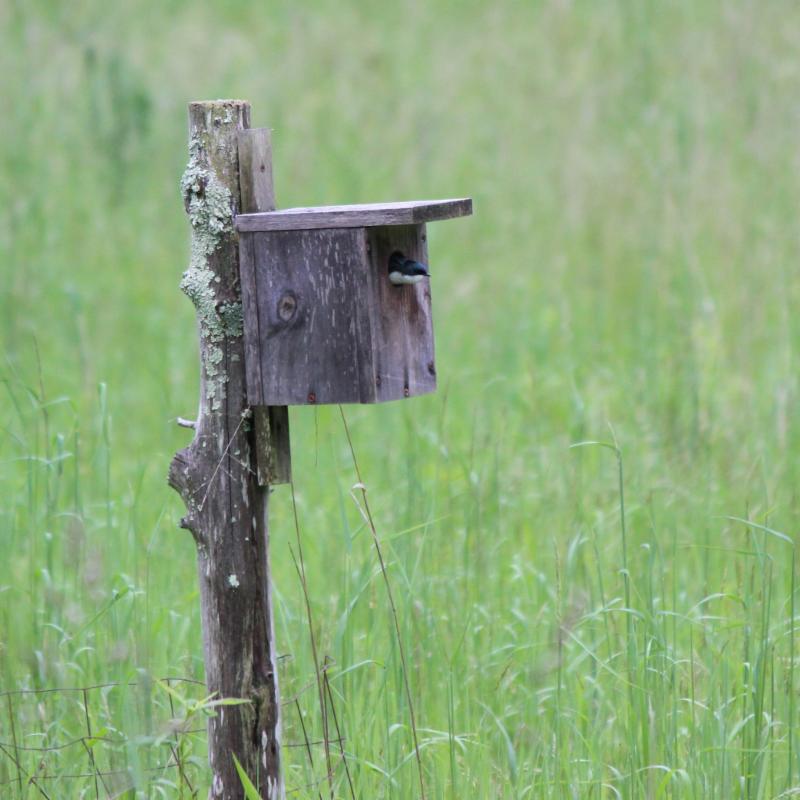 A Tree Swallow (Tachycineta bicolor) peers out of a nesting box in the Toadshade meadow.
Looking Forward, and Spring Recommendations
We hope that all of you have an excellent Memorial Day weekend, and get to spend some time planting in your gardens-- the weather has been perfect for establishing plants recently, and we've been taking advantage of that in our own gardens! Late spring/early summer is one of the best times to plant perennials and woodies, because it gives your plants an entire season to put energy into their root systems to carry them through next winter. Woodies in particular can be impressive when planted this time of year-- when they get a chance to stretch their roots out into the ground all summer, it's amazing to see how they grow! We've been watching our White Meadowsweet (Spiraea alba), Paw Paws (Asimina triloba), and Buttonbush (Cephalanthus occidentalis) responding with particular enthusiasm to the warm weather, and we'll definitely be bringing them to markets in the future. We'll keep you updated on news and updates from Toadshade all throughout the summer, and we hope to hear from you soon!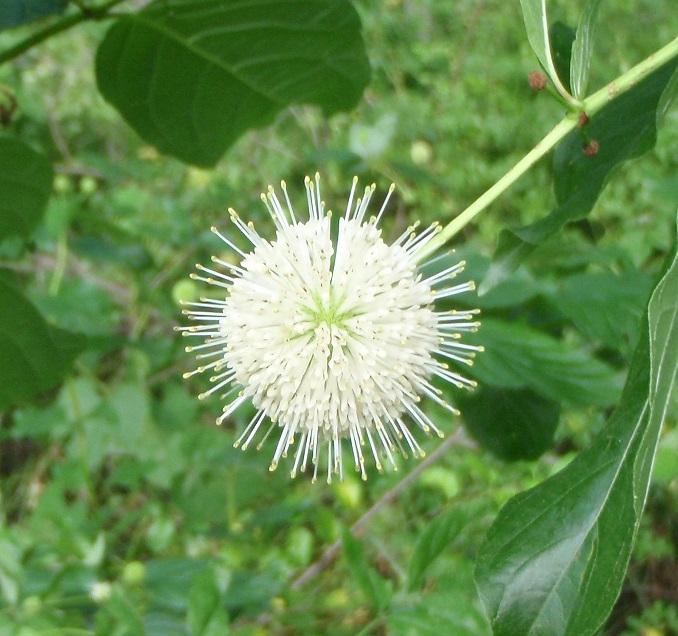 Buttonbush (Cephalanthus occidentalis) flowers are wild-looking, and they start blooming in June!