When buying wildflowers, make sure they are propagated, not removed from the wild! If you have any doubt, ask! Some plant species have been driven to extinction in the wild due to the collection of wild plants!
All our plants propagated in
Frenchtown, NJ

Send a Gift
Open Cart
There is always music amongst the trees in the garden, but our hearts must be very quiet to hear it.
Minnie Aumonier
Thanks to everyone who stopped by!
We are done at the Hunterdon Farmers Market for the season and really enjoyed talking to everyone!
If you have not planted perennials yet, don't worry because there is still time. We will be continue shipping plants until the end of November. Native perennial seeds and gift certificates are always available.
Looking for Trees, Shrubs and Vines??
At Toadshade we are always working to provide more species of locally native plants. In addition to the plants we have listed available on our online plant catalogue, we have small numbers of other woody species on hand. These are in a variety of pot sizes and heights. Take a look at the list of all of the woody species that we currently have available.
Event Schedule
Saturday, November 4th, Native Plant Society of New Jersey, Fall Conference. Raritan Valley Community College, Main Campus, 118 Lamington Road, Branchburg, NJ. Conference, and Native Plant & Seed Sale.
Sunday, November 5th, NOFA-NJ Autumn Celebration. Northeast Organic Farm Assocation - New Jersey
Saturday, November 11th, Rhode Island Wild Plant Society. URI, Coastal Institute (Weaver Auditorium), 1 Greenhouse Rd, Kingston, RI 02881 "Native Plants and the Creatures that Love them"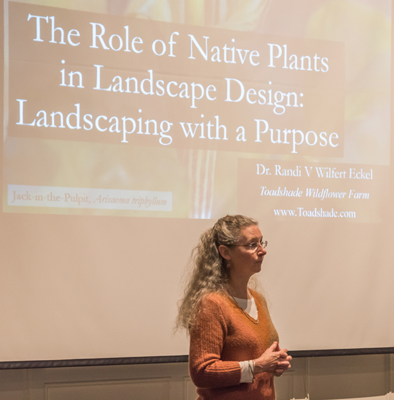 Randi speaking at the Watnong Chapter of the North American Rock Garden Society at Frelinghuysen Arboretum

Photo courtesy of Albert Martin
We started Toadshade Wildflower Farm to make native wildflowers, particularly perennials, more easily available. Our intention is to 1) provide native, perennial, propagated wildflower plants, 2) identify available plants clearly by both common and scientific name, and 3) clearly summarize the native range and growth requirements of the wildflowers for sale.
Accordingly, all of the plants that we offer are native (not alien, introduced, or naturalized) as well as we can determine. We propagate them all ourselves - no plants are dug from the wild! We have tried to list the most often used common names, the scientific names, the preferred growth habit, and the native range based on information from a number of sources (see references below). I would encourage you to try plants that are native to your area. Planted within their native ranges, in sites appropriate to them, native perennial wildflowers will thrive and provide lasting color and interest for years to come.