About





When buying wildflowers, make sure they are propagated, not removed from the wild! If you have any doubt, ask! Some plant species have been driven to extinction in the wild due to the collection of wild plants!
We ship out seeds all winter (find out why winter is the best time to plant wildflower seeds here), and our plant shipping season will resume the first week of April. If you'd like to reserve plants for this spring, feel free to order them now, and we'll ship them out as soon as shipping resumes for your area! Also, keep an eye out early this spring for our 2022 catalogue. If you haven't already signed up, you can sign up to get one here!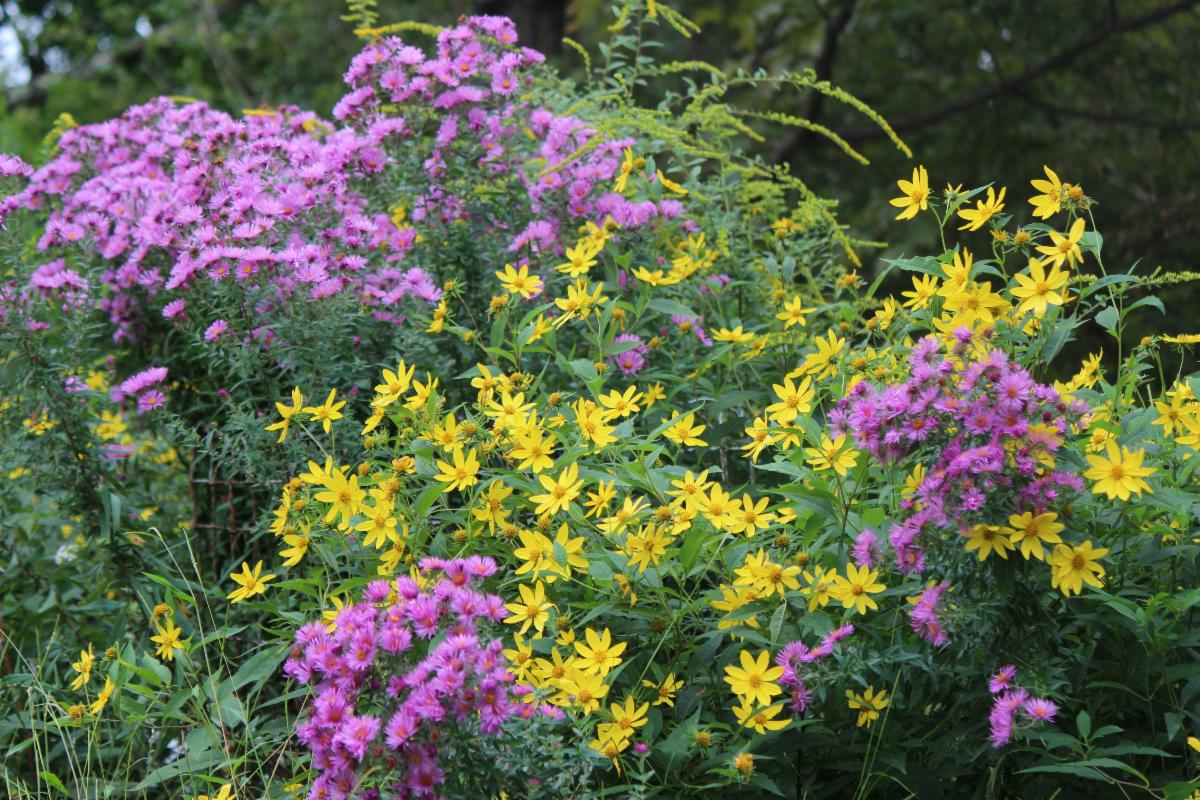 Summer flowers are only a few months away! These two species are New England Aster (Symphyotrichum novae-angliae) and Ten-Petal Sunflower (Helianthus decapetalus). An important gardening tip for establishing tall, pretty blooms like this? Plant them in spring, when they're resprouting from their winter roots, and are still only about 2 inches tall. Far easier than trying to get a 5-foot stem to stand upright in a new location when planting it in July!
Don't see what you're looking for on our online catalogue? Check back soon! We frequently make changes over the course of the season as more species become available. And if in doubt, ask! We'd love to hear from you!
Toadshade is primarily a mail order nursery, and the farm itself is not open to the public. We have, however, recently partnered with our wonderful local hardware store (Frenchtown Home & Hardware), which is now a 'pick-up' point for orders, allowing order pickup 7 days a week in beautiful downtown Frenchtown . Any pickup order costing more than $50 must be pre-paid, but pickup is always free! If you would like to pick up your order rather than having it sent by mail, please simply let us know (with 24 hour notice, M-F), and you will be able to pick up your order at the hardware store's address (Frenchtown Home & Hardware, 11 Kingwood Ave, Frenchtown, NJ 08825) after receiving pickup details and confirmation from us by phone or email.
Has your group considered a Lecture, Seminar, and Workshop? Randi is an accomplished lecturer and popular public speaker. If you would like her to come share her knowledge with your local group, be they a garden club, a university class, master gardeners, etc. let us know.
Check out our series of educational blogs!
Our plant descriptions let you know how difficult each species is to start and we have a helpful guide that describe the various techniques that you can use to start native perennial seeds.
There is always music amongst the trees in the garden, but our hearts must be very quiet to hear it.
Minnie Aumonier