About





When buying wildflowers, make sure they are propagated, not removed from the wild! If you have any doubt, ask! Some plant species have been driven to extinction in the wild due to the collection of wild plants!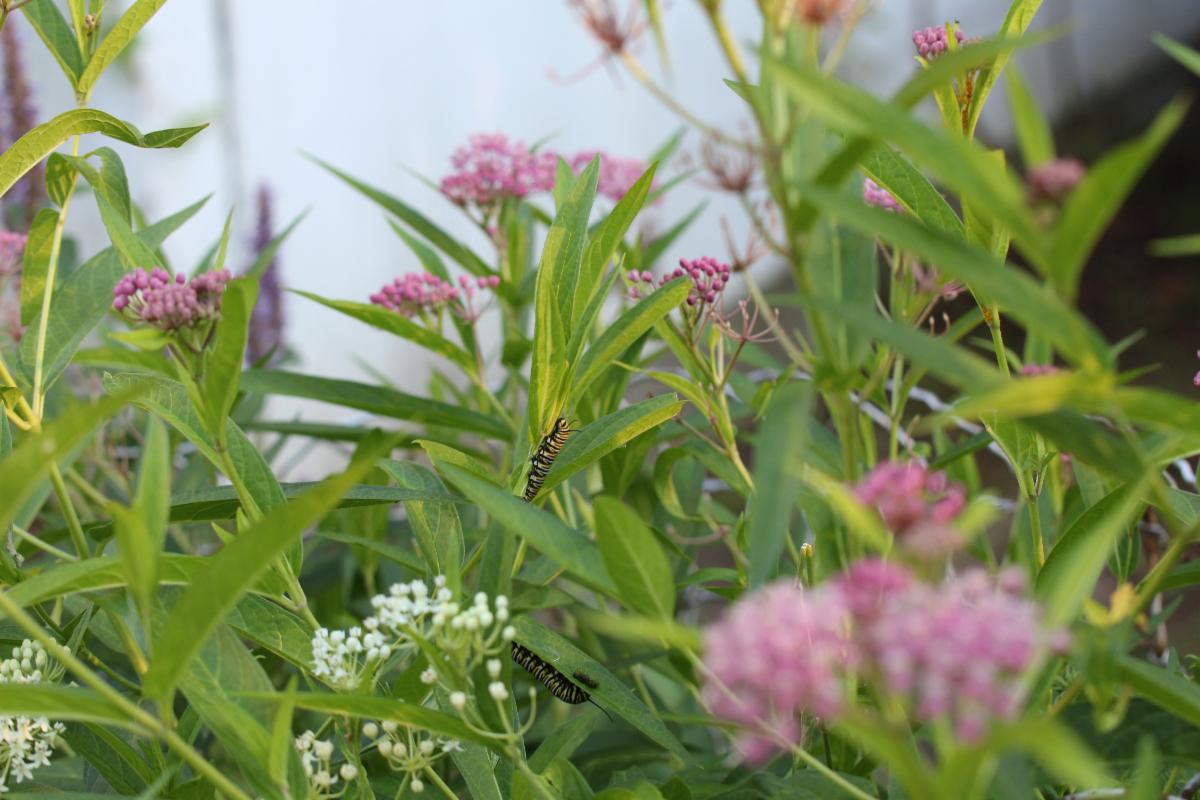 A patch of Swamp Milkweed in midsummer, supporting a large number of Monarch caterpillars.
Don't see what you're looking for on our online catalogue? Check back soon! We frequently make changes over the course of the season as more species become available. And if in doubt, ask! We'd love to hear from you!
Toadshade is primarily a mail order nursery, and the farm itself is not open to the public. We have, however, partnered with our wonderful local hardware store (Frenchtown Home & Hardware), which is a 'pick-up' point for orders, allowing order pickup 7 days a week in beautiful downtown Frenchtown . Any pickup order costing more than $50 must be pre-paid, but pickup is always free! If you would like to pick up your order rather than having it sent by mail, please simply let us know (with 24 hour notice, M-F), and you will be able to pick up your order at the hardware store's address (Frenchtown Home & Hardware, 11 Kingwood Ave, Frenchtown, NJ 08825) after receiving pickup details and confirmation from us by phone or email.
Has your group considered a Lecture, Seminar, and Workshop? Randi is an accomplished lecturer and popular public speaker. If you would like her to come share her knowledge with your local group, be they a garden club, a university class, master gardeners, etc. let us know.
Randi has been Featured on Several Podcasts and Interviews this Year!
Listen to her discuss native plants, how she got into growing them, some of her favorite parts of being a naturalist, and ways to make an ecological difference in an episode of Backyard Ecology with host Shannon Trimboli
Listen to her speak about Native Plant Societies with Jeff Nelson from the Kentucky Native Plant Society, Ellen Honeycutt from the Georgia Native Plant Society and of course, host Shannon Trimboli in another episode of Backyard Ecology
Or tune in to the Native Plant Society of New Jersey's new podcast, The WildStory: A Podcast of Poetry and Plants (Randi's not featured in this one, but she does speak in the central blurb, discussing the Native Plant Society of New Jersey!).
Randi was also interviewed for the Washington Post this year, talking about how to best help your local wildlife in your garden outside of the growing season.
And, for those of you who have always wanted to attend one of Randi's lectures but haven't been able to make it, you can now view a recorded version of her presentation Native Groundcovers: Sustainable, Living Mulch" on YouTube, courtesy of the Native Plant Society of New Jersey.
Check out our series of educational blogs!
Our plant descriptions let you know how difficult each species is to start and we have a helpful guide that describe the various techniques that you can use to start native perennial seeds.
There is always music amongst the trees in the garden, but our hearts must be very quiet to hear it.
Minnie Aumonier